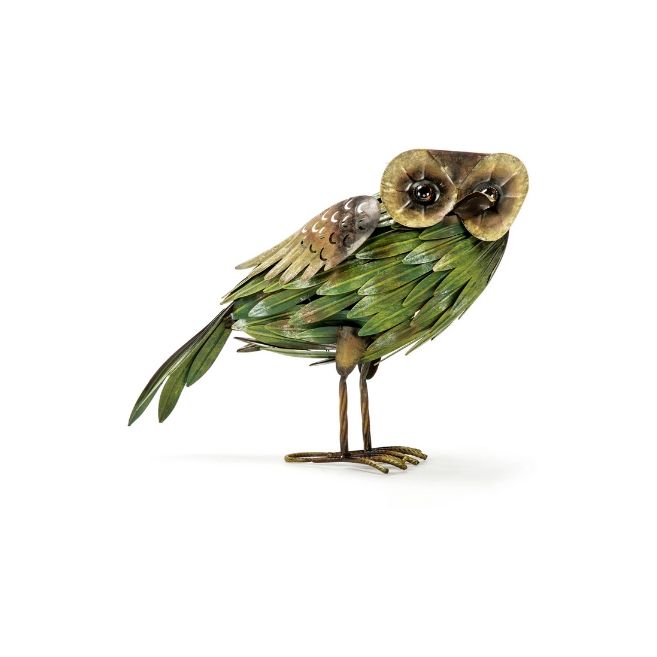 Details
The Barrel Shack's The Jupiter is a wise old owl with brilliant plumage, intricate details in its feathering, and sparkling jewel eyes that speak to a depth of wisdom and understanding that passes all others. Strong, sturdy legs and layered metalwork feathers create a vision of depth that pops out wherever it's placed in your home.
The color green invokes feelings of balance, harmony, and growth. Green is the color of spring when renewal and birth flowers forth, bringing new energy and new life after a long, hard winter. In nature, an owl is the ruler of the night and the seer of souls. Owls were honored as the keeper of spirits of those who had passed from one plane to another, sometimes accompanying a newly freed soul from the physical world to the realm of the spirit.
Jupiter was the supreme god in Roman mythology. He presided over heaven and light, and was responsible for the protection of all things Roman. Jupiter was the epitome of wisdom, fatherly knowledge, and insight. He ruled the sky, much as the owl rules the night. Together, Jupiter and the owl are divine witnesses to the sacred trust and knowledge that gets passed down from generation to generation, protecting those under its wings and within its realm in the sky.
Bring this wisdom and protection into your home with the Barrel Shack's The Jupiter, keeper of the night and the sky. Harmony and balance will follow you all the days of your life with The Jupiter as part of your collection.
Every sculpture at The Barrel Shack is assembled by hand. It takes 3 days for each welder to create one unique masterpiece. The welders have 10 years of experience before they are able to create these works of art.
The material used to bring these animals to life is iron. The iron is first cut to the particular shape and size, then welded together for assembly. The welded iron is then polished until smooth and treated by a special electrophoresis powder to prevent rusting. The sculpture is then painted and jeweled to bring out the individual characteristics.
Strong, sturdy legs and layered metalwork feathers create a vision of depth that stands out
Color green invokes feelings of balance, harmony, and growth
Intricate details in its feathering, and sparkling jewel eyes
Each sculpture requires 3 days of craftsmanship
Welded by hand
18in long x 14in tall x 7in wide