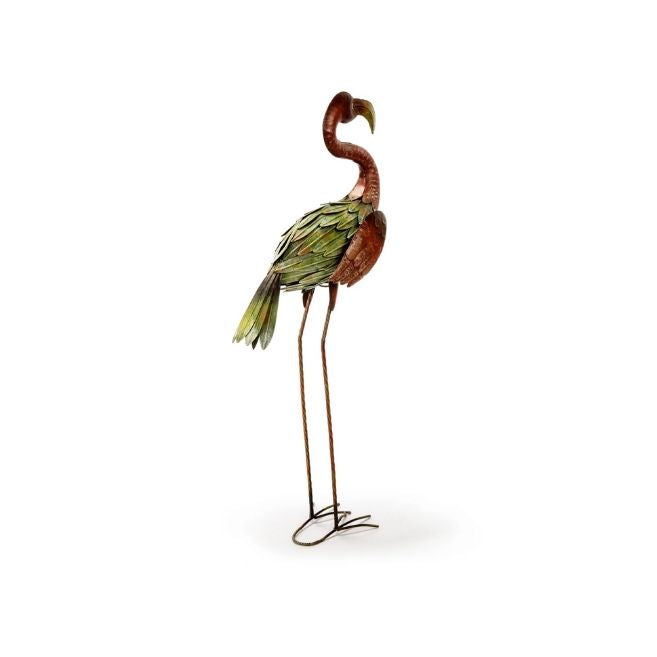 Details
The Barrel Shack's The Galapagos represents long-legged, long-necked birds that congregate on The Galapagos Islands, including flamingoes, storks, egrets, and herons, among others.
The Galapagos is multi-hued to show off bright plumage that evokes images of tropical islands and sandy beaches, nature in its most pristine element, untouched and unsullied by mankind. The metalwork is intricate, and the details combine to present a sculpture that stands out from others.
Birds of a feather flock together, and the Galapagos Islands are home to various species of long-legged, wading birds. The islands are famous for their immense number of endemic species that were studied by Charles Darwin and formed the basis for his theory of evolution by natural selection.
The Galapagos Islands consist of 18 main islands, 3 smaller islands, and 107 rocks and islets, and it became a national park in 1959, with tourism starting in the 1960s. Close to 200,000 tourists visit the Galapagos Islands each year, a surge in tourism that speaks to our interest in experiencing nature in its most austere form. Because of this, the World Heritage Committee has recommended that the Galapagos Islands be placed on the list of World Heritages in Danger.
The Barrel Shacks' The Galapagos represents a desire to preserve nature for generations to come. Just as we're interested in creating heirloom quality home furnishings, the Galapagos also represents our desire to protect natural habitats for our children and grandchildren.
Every sculpture at The Barrel Shack is assembled by hand. It takes 3 days for each welder to create one unique masterpiece. The welders have 10 years of experience before they are able to create these works of art. The material used to bring these animals to life is iron. The iron is first cut to the particular shape and size, then welded together for assembly. The welded iron is then polished until smooth and treated by a special electrophoresis powder to prevent rusting. The sculpture is then painted and jeweled to bring out the individual characteristics.
Multi-hued to show off bright plumage that evokes images of tropical islands and sandy beaches
Metalwork is intricate, and the details combine to present a sculpture that stands out from others
Each sculpture requires 3 days of craftsmanship
Welded by hand
34in high x 7in wide 16in long