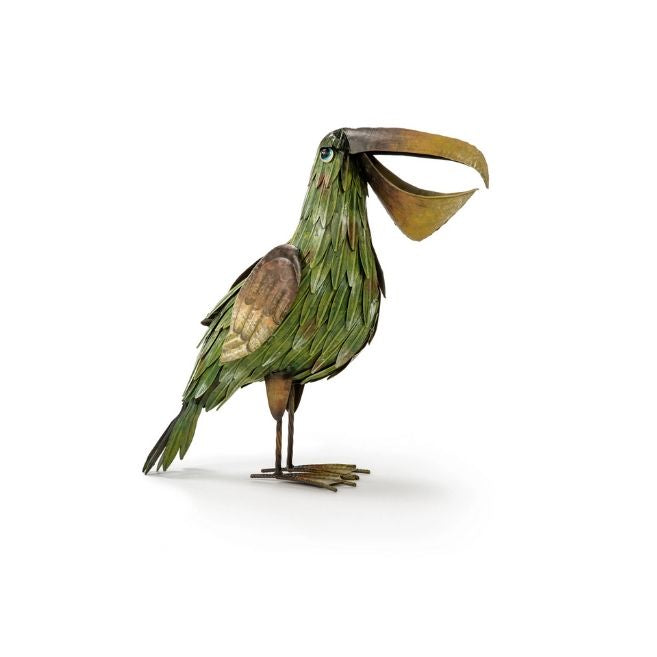 Details
Parrots bring to mind a tropical oasis where you can get away from it all and leave behind your cares and worries. The Barrel Shack's The Jack brings that sense of whimsical parody that we also imagine with parrots, a mimic that can emulate words and noises easily. Featuring exquisitely intricate detailing on the neck and breast feathers, the Jack is a variegated green parrot with a strong, curved bill, an upright stance, and strong legs. He stands proud and firm.
If your animal totem is a parrot, you are a natural diplomat with acute understanding and the ability to compromise. You also have an innate understanding of healing powers and the symbolism of color. You intrinsically known when to speak and when to keep quiet.
We named our parrot Jack because it's an independent name for an independent character. It's frequently used in fairy tales and nursery rhymes. Think of how the young boy Jack in "Jack and the Beanstalk" outwits a sleeping giant to rescue the golden goose, bringing his mother something much more magical and impressive than a magic bean.
The Barrel Shack's The Jack embodies your belief in understanding, compassion, and compromise to bring about equitable resolution to any issue. Channel your inner diplomat and stand proud and firm with The Jack.
Every sculpture at The Barrel Shack is assembled by hand. It takes 3 days for each welder to create one unique masterpiece. The welders have 10 years of experience before they are able to create these works of art. The material used to bring these animals to life is iron. The iron is first cut to the particular shape and size, then welded together for assembly. The welded iron is then polished until smooth and treated by a special electrophoresis powder to prevent rusting. The sculpture is then painted and jeweled to bring out the individual characteristics.
Featuring exquisitely intricate detailing on the neck and breast feathers
Hand-made, reclaimed-looking metal sculptor
Each sculpture requires 3 days of craftsmanship
Welded by hand
18.5in tall x 6.7in wide x 17in long