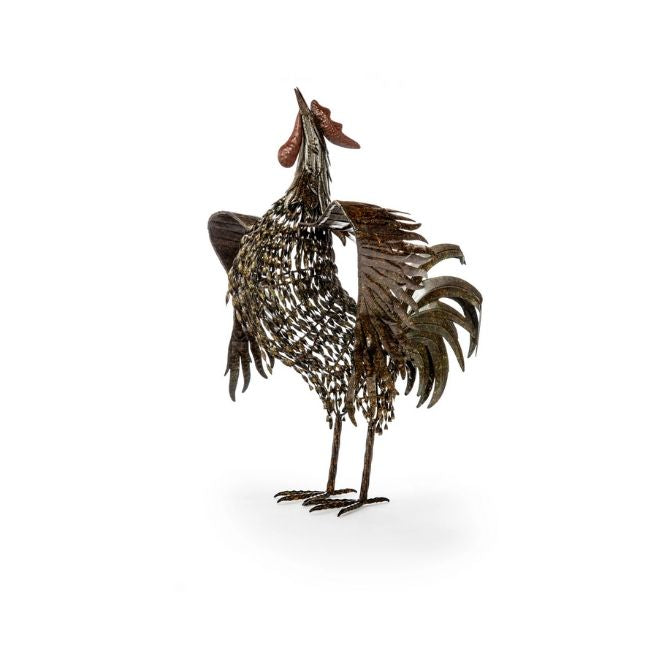 Details
A proud cock with his head thrown back in mid-crow, the Caesar is intricately designed and hand-crafted metal works with a fine sense of detail that, together, makes an impressive sculpture. The metal is reclaimed-looking and shows its weather-worn patina to create a blend of colors that give depth and interest to this piece. Layers of metal feathers on its head, neck, and wings give the Caesar a volume usually not found on metal sculptures.
Julius Caesar, in trying to identify the gods being worshiped by the early inhabitants of France, likened them to Mercury as being the god most revered in Gaul. This led somehow to the widespread identification of Caesar's Mercury with the sacred cock, the Gallic rooster, which is an emblem of France. However the two got entwined, the rooster or cockerel has a place of prominence as a heraldic animal officially used by the French nation. A Gallic rooster can be found perched nobly atop the garden gate of the Palais de L'Elysee in Paris, which is the official residence of France's President.
The power and prominence of Caesar brought the rooster to the French nation where it has served as an icon of national pride in a number of situations. The Barrel Shack's Caesar will bring pride and prominence to your home with this exquisite metal work sculpture.
Every sculpture at The Barrel Shack is assembled by hand. It takes 3 days for each welder to create one unique masterpiece. The welders have 10 years of experience before they are able to create these works of art. The material used to bring these animals to life is iron. The iron is first cut to the particular shape and size, then welded together for assembly. The welded iron is then polished until smooth and treated by a special electrophoresis powder to prevent rusting. The sculpture is then painted and jeweled to bring out the individual characteristics.
Caesar is intricately designed and hand-crafted metal
Reclaimed-looking metal creates a blend of colors that give depth and interest
Each sculpture requires 3 days of craftsmanship
Welded by hand
24.5in height x 16in wide x 18in long