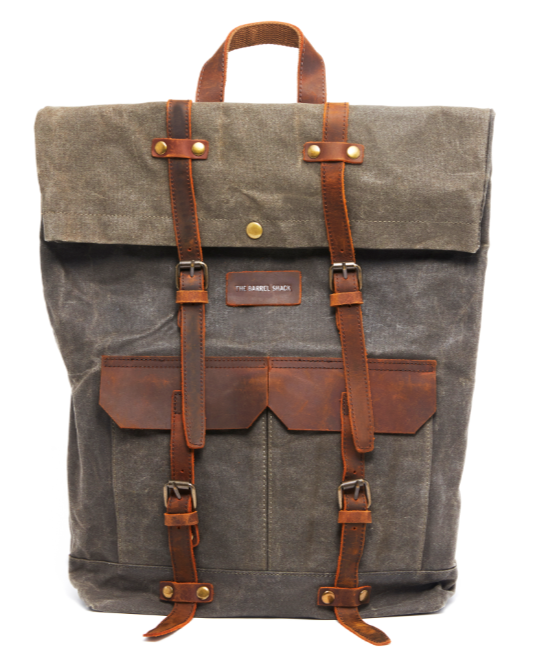 The Barrel Shack™ The Bruce
Details
The Bruce by The Barrel Shack is the ideal backpack for your daily commute to work or class. Featuring a rustic country-style due to its use of rugged, reclaimed materials and well-worn leather, it's the design details of The Bruce that make it truly make it stand out. The shoulder straps on The Bruce are padded, allowing you to carry any load with ease and comfort, and the various compartments are snapped closed with leather and metal buckles to keep all of your belongings safe and secure. A sturdy leather handle on the top of the backpack lets you grab it and go when you're on the move.
The Barrel Shack's The Bruce will serve you well over the years with a vintage, authentic look that belies its true purpose: to make your life easier and more organised. With its simple lines and accents, alongside its army green colour-way, you are left with a design which is laid-back in appearance and style. The flap lid rolls to cover the top opening and fastens safely with two leather straps that buckle down. The two front pockets allow easy access to smaller accessories and are also secured by two leather buckled straps. The dual interior main compartment gives you plenty of options for storing all your belongings.
Versatile and functional, The Bruce will carry all your essentials safely and securely, wherever the road takes you.
The Bruce by The Barrel Shack is a handmade backpack crafted from repurposed waxed canvas and top grain leather trim
Features The Barrel Shack logo
Two adjustable shoulder straps and top grab handle
Two front leather and metal buckles securely fasten flap lid for top opening
Bag interior separated into dual storage compartments
Two front pockets with a leather and metal buckle closure
Fully padded back panel
12-in long x 6-in high x 19-in wide