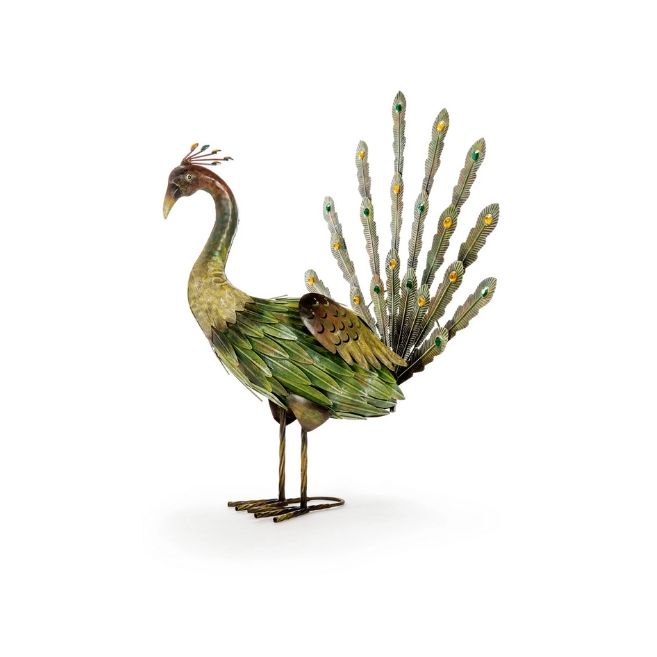 Details
Peacocks have the most beautiful plumage that's iridescent and stunning, and inspired the artisans to create The Albert, an exquisite metalwork sculpture that captures the soul of a peacock in all its splendor. The eyespots on the peacock's train feathers and the head crest are sparkling jewels that capture light and reflect it back in full glory. The Albert's body feathers are layered in intricate detail to give it depth and volume, and his eye-spotted tail feathers are in full display in an ancient courtship ritual.
The Albert is an Asian species of peafowl found in Burma, Indochina, and Java, and differs from others with his green neck and breast feathers that resemble scales. Albert is a masculine name with German origins that means "noble" and "bright." Albert has several distinctive namesakes, such as Prince Albert, husband of Queen Victoria; Albert Einstein, German physicist and creator of the theory of relativity; and Albert Camus, a French-Algerian author and philosopher. Albert was a common name among royalty in Germany, Belgium, and England, and many other nationalities around the world adopted a form of the name over the years.
The Barrel Shack's Albert also has a place of prominence in our collection. Both noble and bright, the Albert is a combination of craftsmanship and minute details that creates an exquisite sculpture for your home or office.
Every sculpture at The Barrel Shack is assembled by hand. It takes 3 days for each welder to create one unique masterpiece. The welders have 10 years of experience before they are able to create these works of art. The material used to bring these animals to life is iron. The iron is first cut to the particular shape and size, then welded together for assembly. The welded iron is then polished until smooth and treated by a special electrophoresis powder to prevent rusting. The sculpture is then painted and jeweled to bring out the individual characteristics. 
Exquisite metalwork sculpture that captures the soul of a peacock in all its splendor
Sparkling jewels on The Albert's head crest and eyespots
Each sculpture requires 3 days of craftsmanship
Welded by hand
25in high x 19.3in wide x 13.5in long