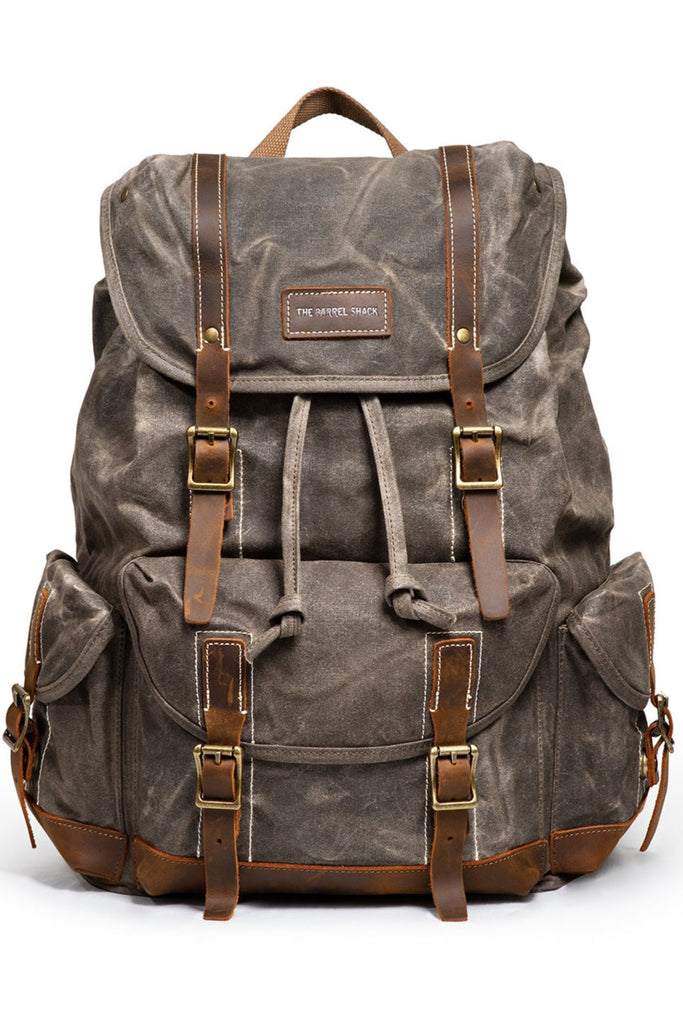 THE BARREL SHACK™ THE CRAIG
Details
Whether you're heading on a road trip or on a commute to work or class, The Craig by The Barrel Shack will make a rustic impression on your daily ventures. Crafted with top grain leather trim and reclaimed-style canvas, the rugged backpack strikes a handsome aura with its contrasting accents and simply timeless design. A stylish piece with functionality, The Craig is equipped with outer pockets for smaller accessories like sunglasses, and discreet interior pockets for valuables. With its comfortable shoulder pads, The Craig supports your frame and allows easy-carrying for heavier items when you're on the move.
The Barrel Shack's The Craig is durable and will last well over the years due to its rigorous leather construction. Securely packed with its exterior leather straps, and drawstring front, The Craig will keep your belongings sealed. Utilise the front pocket for smaller goods, and the side pockets for necessities like keys and your mobile phone. The interior compartment is spacious and will keep any books, computers and packed lunches in place. Wear this piece high on your back or carried by the top handle when it's not too heavy.
For a functional and stylish backpack which will last throughout the years, The Barrel Shack's The Craig is the ideal companion for you.
● The Craig by The Barrel Shack is a handmade backpack in repurposed waxed canvas and top grain leather trim
● Features The Barrel Shack logo
● Two adjustable shoulder straps and top grab handle
● Two front leather and metal buckles securely fasten flap lid for top opening
● Bag interior separated into dual storage compartments
● Two front pockets with a leather and metal buckle closure
● Fully padded back panel
● Dimensions: 12.6-in long x 17-in high x 7.5-in wide