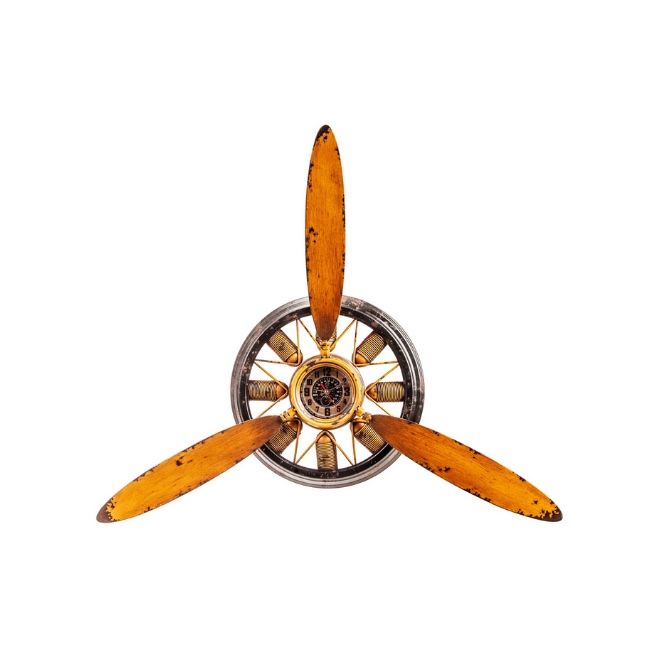 Details
Patterned after reclaimed materials, The Wilbur clock by The Barrel Shack evokes the feelings of rustic charm. A time when men were adventurous and not afraid to reach for new heights, especially in the air. The Wilbur is a custom-made clock featuring three elongated propellers and metal casing that encloses the face of the clock in intricate detail. Nothing is left to the imagination in designing The Wilbur.
Wilbur was the oldest of the Wright brothers, the two audacious inventors who created the first flying machine. On December 17, 1903, the Wright brothers successfully made the first free, controlled flight featuring a power-driven airplane of sorts. The plane flew for almost 60 seconds and over 850 feet. Quite the accomplishment for 1903, Wilbur Wright, along with his brother Orville, are the fathers of modern aviation as we know it today. They set in motion the means for the rest of us to have freedom to fly anywhere in the world.
The Wilbur by The Barrel Shack brings an adventurous spirit into your home to spice up your walls and decor. With authentic materials and a rustic, down-to-earth charm, The Wilbur should be displayed prominently. Stretching 37.4 inches by 5.3 inches by 33.5 inches, The Wilbur commands attention.
Patterned after reclaimed materials
Rustic charm with aviation inspiration
37.4-in long x 5.3-in wide x 33.5-in high