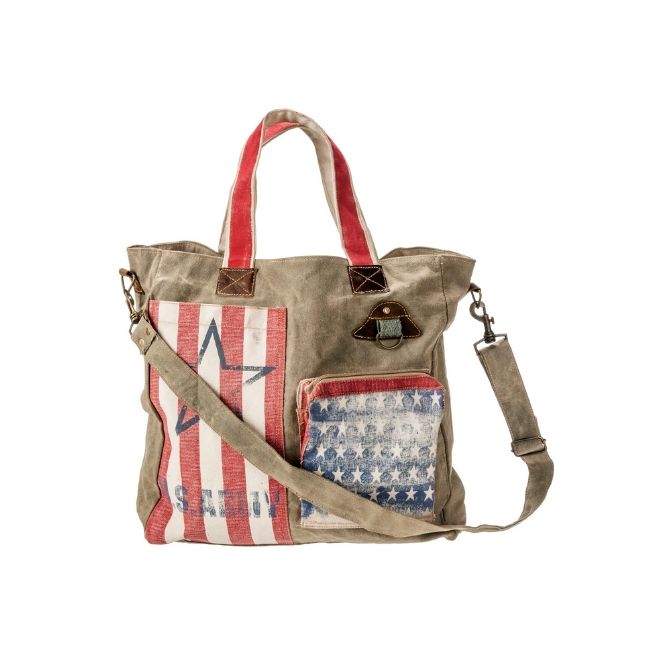 Details
Show your patriotism with the rustic, authentic design of The Washington by The Barrel Shack. Repurposed-looking materials consisting of canvas and leather combine to create a flag-waving expression for your love of country.
The stars and stripes are proudly displayed along side authentic military stamps and ingenious leather and metal accents that display a depth and texture that you'll fall in love with. You have options for carrying The Washington, too. You can use either the convenient shoulder strap to sling it on or the quick and easy grab handles for when you need to grab and go.

The Barrel Shack is dedicated to bringing you the most unique, one-of-a-kind pieces constructed from rustic and authentic materials and designs. The Washington is The Barrel Shack's salute to a tradition that speaks to independence and freedom for all. Display your pride and your love of rustic, authentic country pieces with The Washington. 
The Washington from The Barrel Shack is handmade, crafted from reclaimed-looking canvas and leather
Featuring American flag stars and stripes, with a large star and U.S Army stamp
8-in canvas drop handle
20-in adjustable canvas body strap
Front pocket with stars and zipper, 6.75-in x 8-in
Deep front pocket panel with red and white stripes
Two large interior convenience pockets
16-in long x 16-in high x 4.5-in wide