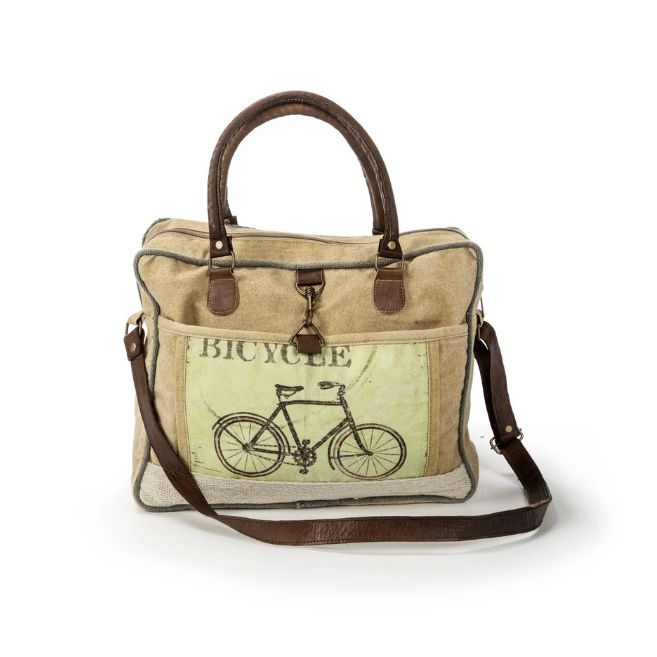 Details
The Trevor is a messenger bag that's in a class all of its own. Fine details like repurposed-looking canvas reminiscent of old military tents and rugged leather handles, strap, and accents make the Trevor a unique choice for carrying your essentials. A large zippered interior compartment holds your essentials for work or class, and a metal clip-close exterior pocket holds items for quick and easy access.
You can sling the Trevor over your shoulder or across your body with the shoulder strap, or carry by hand with the sturdy handles.
The Barrel Shack's Trevor is a classic, authentic messenger bag that brings to mind vintage bicycles and accessories that are as functional as they are time-worn and weathered. The Trevor evokes images of leisurely bicycle rides in the country on a lovely spring day when the flowers are in full bloom, and the whole day stretches out in front of you.
Whether you use the Trevor to get away from it all on the weekend or as a rustic bag for your daily commute, you'll enjoy the carefully sourced and reclaimed-style materials that defines the Barrel Shack.
The Trevor messenger bag is unique and completely functional for getting your essentials from Point A to Point B, wherever that might be for you.
14in long x 11.5in high x 4in deep
Front pocket with metal clasp closure
Large main compartment with interior convenience pocket
7.5in drop handle
21in adjustable leather shoulder strap