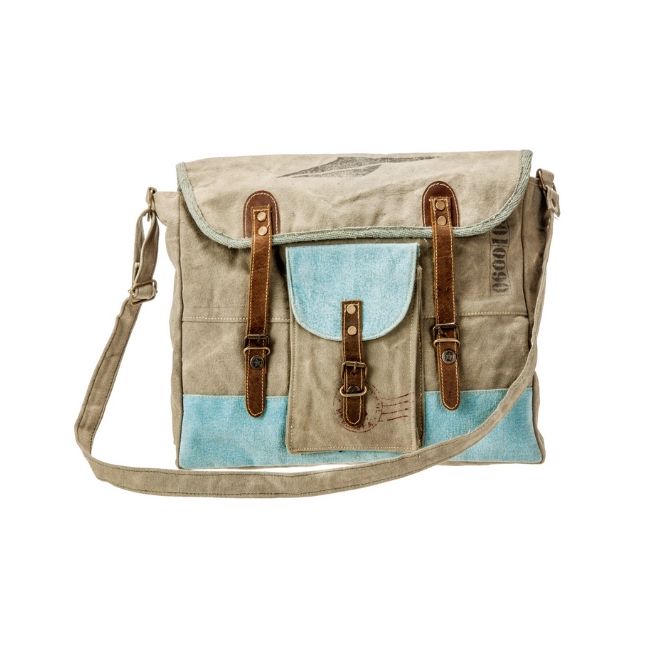 Details
An interesting design makes The Stewart by The Barrel Shack stand out from other messenger bags. With its rustic materials and fabrics designed with reclaimed materials in mind, The Stewart brings a sense of authentic country charm to an accessory that is as important to get just right as are the shoes you choose to wear with each ensemble. Whether you use The Stewart as a daily, go-everywhere handbag or as a stylish accessory to complement a few certain outfits, you'll have a conversation piece that starts with "Where did you find this amazing bag?"

Authentic canvas and well-worn leather combine to create a visual feast that uses contrasting colors and textural accents that draws the eye, yet shows a symmetry that is as innovative as it is functional. The canvas flap secures closed with rustic leather straps that are well-worn and durable.
The smaller front pocket has a contrasting color flap that also secures closed with a vintage leather strap and is perfect for holding your small essentials, like your smartphone or sunglasses, close at hand and easily accessible. And at 15 inches by 11 inches, The Stewart is sized perfectly for storing all your essentials for a day in town shopping or leisurely day in wine country.

The Stewart by The Barrel Shack is your unique, rustic messenger bag that brings the country life to your side with style and panache.
The Stewart from The Barrel Shack is a handmade messenger bag crafted from reclaimed-style canvas and leather
Two front leather and metal buckles to secure your bag close
Exterior pocket with leather and metal buckle, 5-in long x 7-in high
20-in adjustable body strap
One interior convenience pocket
15-in long x 11-in high x 4-in wide