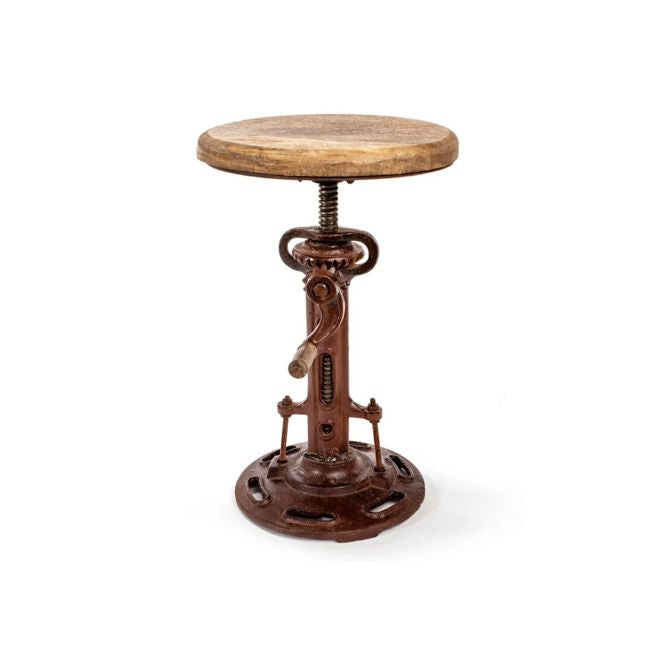 Details
A worn, weathered, round wooden top styled after a single solid piece of acacia wood sits atop the Smith, and an intricate set of gears and cogs patterned after a recycled car jack let you adjust the height up or down, just like you'd change the tire on your car.
The Smith is that versatile piece of furniture that can be used as a stool or as a side table, and it's sturdy enough to hold just about anything. The metal work that constructs the center post and the floor stand is antiqued to give it the rustic and authentic look some people desire, and the machinery incorporated in the Smith's design gives it an industrial feel that would look at home in a variety of settings. A simple wooden crank handle adjusts the height so you have options how and where you use the Smith.
Smith is, in fact, the most common surname in the United Kingdom, Australia, and the United States. Before surnames were inherited by children, Smith was the name given to the blacksmith of the village, and came from an old English term meaning one who works in metal. The blacksmith was the expert craftsman in the village that all turned to for objects created from wrought iron or steel. The "smith" would forge the metal and then use tools to hammer, bend, and cut it into tools, gates, light fixtures, furniture, sculpture, cooking utensils, weapons, and farming implements, among others.
The Smith by Barrel Shack revives the beauty and craftsmanship of a master metal worker in an intricately designed piece that's perfect for any collection of fine, authentic and rustic furniture.
Smooth, weathered, solid, round wood seat top
Patterned after reclaimed metal car-jack used in mechanic shops, with crank handle
Adjustable height
Steel Craftsmanship detail
18.9in height x 12in width seat diameter