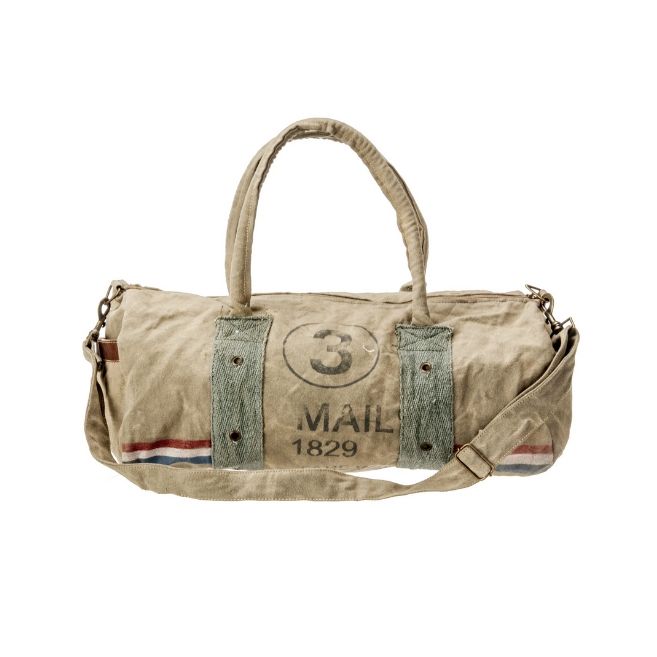 Details
A long and narrow tote, The Patterson is the perfect bag for carrying workout clothes to and from the gym or a light change of clothes for an overnight get-away. Featuring reclaimed-looking canvas material and repurposed-style leather, The Patterson has a simple, laid-back style with interesting details in the metal grommets and the leather strap.
The punch of color in the stripe along the bottom adds a whimsical sense to an already interesting piece, and the stamps on the side give it visual appeal, evoking a bygone history and an fascinating story.

The extra wide canvas strap can be worn on your shoulder or across your body, and it's removable in case you want a different look. The sturdy grab handles on top make it easy to grab The Patterson and leave when it's time. Whatever you decide to carry in this unique tote, you have many options with The Patterson.

Measuring at 19 inches long by 10 inches high, The Patterson by The Barrel Shack is your go-to piece that is both highly functional and designed with rustic, country charm for a look that's one-of-a-kind. When you want authentic, down to earth materials combined with interesting detailing, The Patterson is your best choice of companions.
The Patterson by The Barrel Shack is a handmade tote bag
Designed with reclaimed canvas and repurposed leather in mind, includes unique stamping
21-in adjustable and removable canvas body strap and 10-in rolled canvas drop handle
Two exterior side pockets with leather accents, and one interior convenience pocket
19-in long x 10-in high x 9-in wide