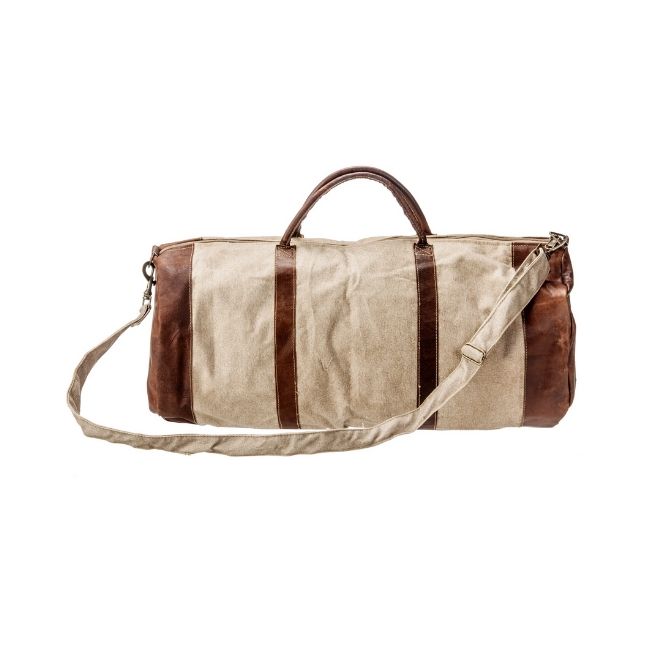 Details
Bring the country life to light with the rustic, attractive features from The Mason. Interesting vertical stripes made from vintage-looking canvas and leather make The Mason stand out in any crowd and give it a rugged appeal that can either be casual for a jaunt to the farmer's market or dressed up for a night on the town.
Measuring 23 inches by 14 inches, The Mason holds everything that's important, whether you're packing a change of clothes to go out of town for the weekend or just hauling workout clothes to the gym. The rolled leather handles make it easy to grab The Mason and go when you're ready to leave.

The Barrel Shack has created The Mason with vintage materials that help you represent a country life. If you like the rustic appeal of reclaimed-looking materials and fabrics, The Mason is a top addition to your collection of pieces that reflect that rugged, rural life.

The Mason brings you a large enough bag for everything you need in a style that fits your love of the rustic life. Take The Mason with you as you journey down country roads or head for the hills.
The Mason from The Barrel Shack is a handmade duffle bag that has been crafted in the style of reclaimed canvas and leather
Securely zips close
Two interior convenience pockets
23-in adjustable body strap with removable option
4-in leather drop handle
23-in long x 14-in high x 10-in wide