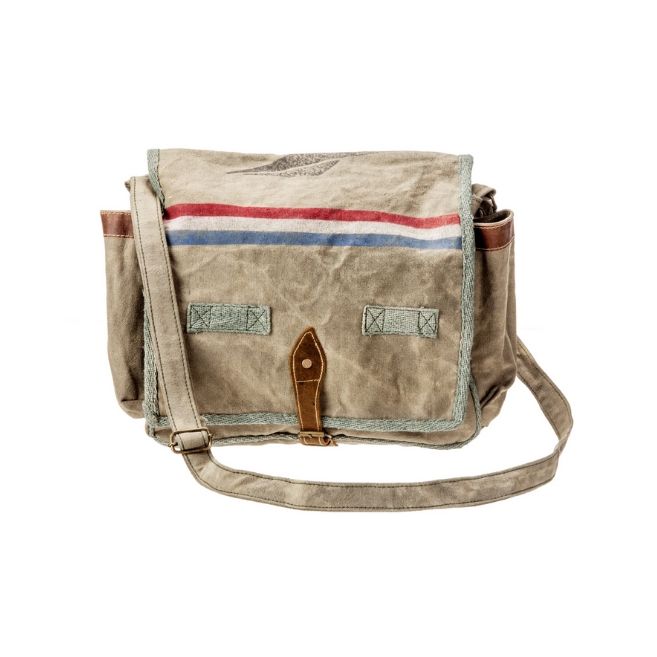 Details
Patriotic red, white, and blue stripes and expressive details with leather and rustic canvas give The Hayes a country charm that's both relaxed and stylish. An authentic messenger style bag, The Hayes is designed with repurposed-looking canvas and reclaimed-style leather for a unique look all its own. 

Measuring at 15 inches by 10 inches by 4 inches, The Hayes is a perfect size messenger bag that's not overly large, but still enough space to easily carry all your essentials. The canvas shoulder strap is long enough to carry on one shoulder with the bag securely at your side or across your body with the bag in front. Whatever way you choose, you'll be comfortable with The Hayes.

Interesting details include the leather strap that buckles closed the flap lid to secure your belongings inside and the canvas patches on the flap that give depth and texture to draw the eye. The unique stamped design brings a patriotic and rustic feel to The Hayes.
The Hayes by The Barrel Shack is a handmade messenger bag
Crafted with reclaimed canvas and leather in mind, and featuring a patriotic red, white, and blue stripes
Front leather and metal buckle closure
27-in adjustable canvas body strap, two exterior side pockets, and one interior pocket with a zip closure
15-in long x 10-in high x 4-in wide