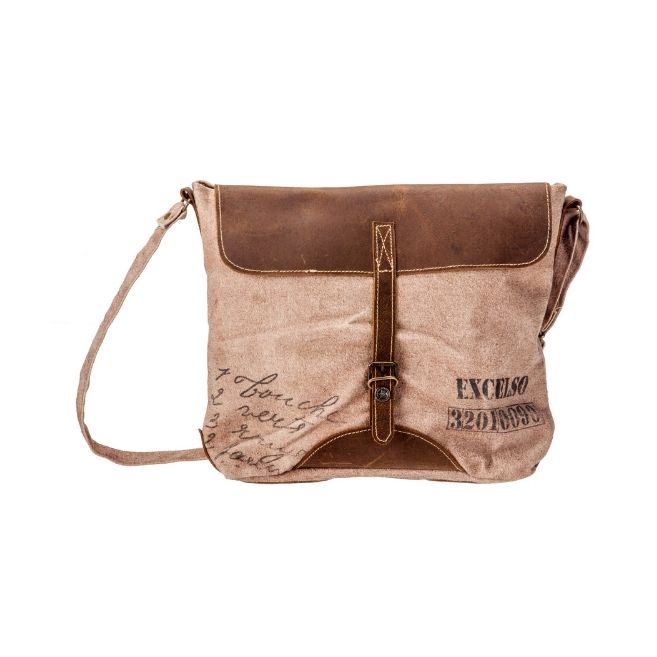 Details
The Cruz by The Barrel Shack is a one-of-a-kind design that offers you rustic charm and a country flair to complement any ensemble. If you like authentic, reclaimed materials, The Cruz will be your next favorite go-to piece for stashing your essentials. Featuring repurposed-style canvas and leather, The Cruz is a very simple satchel with unique accents like the leather flap that securely closes with a leather strap and buckle and the small rising sun shaped leather patch at the bottom. Stamped with interesting vintage lettering and numbering, The Cruz has an understated style that works together to create something extraordinary.

Measuring 13.5 inches by 11 inches with a slim 3 inch profile, The Cruz is the perfect size for carrying just what you need without the bulk of a larger bag. The long shoulder strap is adjustable to find the perfect fit whether you wear The Cruz on one shoulder or across your body. 

The Cruz by The Barrel Shack is designed to create a cross between the country style you adore with the functionality of a slim hand bag that can go anywhere you need it to. The Cruz is your vintage, authentic piece to accompany a rustic lifestyle that revels in rugged, rural pieces to complement any country ensemble.


The Cruz from The Barrel Shack is a handmade satchel that has been crafted from reclaimed-style canvas and leather
Leather flap secures close with a leather strap and button
Two interior convenience pockets
18-in adjustable canvas strap
13.5-in long x 11-in high x 3-in wide