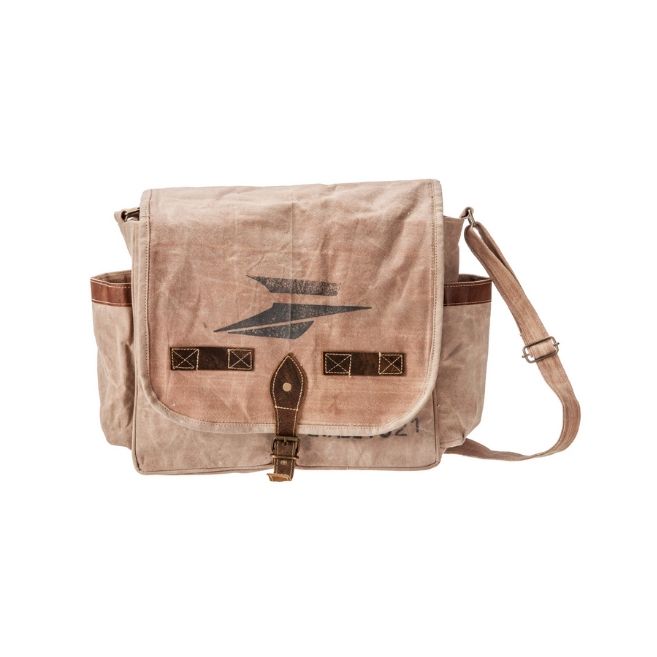 Details
If you love the messenger style bags and authentic, country charm, you absolutely have to have The Cole by The Barrel Shack. Featuring a satchel style flap cover that buckles safely closed, you also get two side pockets for holding essentials you need quickly and easily.
Constructed in the style of repurposed canvas material and reclaimed leather, The Cole has a simple grace that is rugged and rustic to mesh well with your country lifestyle. The long shoulder strap lets you sling it over one shoulder or wear The Cole across your body, whichever you prefer. And the little leather accents pieces give The Cole a texture that complements any ensemble.

The Cole from The Barrel Shack is a unique, one-of-a-kind piece that speaks volumes about your taste and style. The materials used give The Cole a well-worn and authentic feel that is just as interesting today as it was decades ago. The Barrel Shack's repurposed-style fabrics and leather design come together to bring you the country aesthetic you want in your life.

Even if you already have a messenger bag in your collection, The Cole brings a different feel to a classic style. Make a statement with The Cole.
The Cole by The Barrel Shack is a handmade messenger bag
The Barrel Shack uses repurposed-looking canvas and leather to bring you an authentic rustic design
24-in adjustable canvas body strap
Two exterior pockets on each side, and one interior convenience pocket to keep all of your items organized
13-in long x 11-in high x 5- in wide