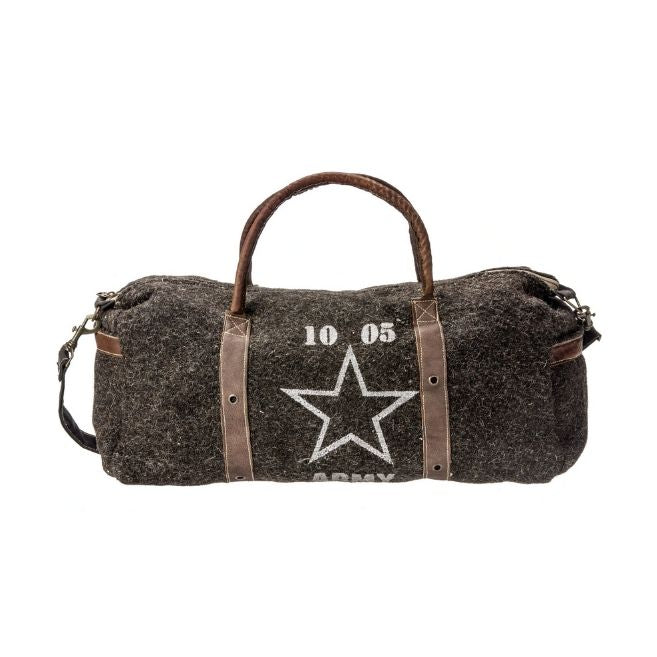 Details
If you're looking for an oversized bag to carry all of your essentials in high style, you definitely need the Grant by The Barrel Shack. Designed with reclaimed canvas and repurposed leather in mind, the Grant shows off interesting details and stamps that evoke an image of the US military. And who was possibly the greatest general of the US army that later became President? Ulysses S. Grant saved the Union and went on to become President of this fine country, leaving behind a legacy of patriotism and loyalty.

The Barrel Shack's Grant is designed to leave behind a legacy of functionality combined with rustic details that create texture and depth. With vintage leather accents and metal grommets to add visual interest, the Grant also gives you options for carrying. You can use the shoulder strap on your shoulder or across your body, or you can use the grab handles when you need to go. The shoulder strap is even removable to give you a clean look that can go anywhere.

The Grant measures 22 inches long by 11 inches high, plenty of room to carry everything you'll need for the day or even a short overnight trip. A deep and wide tote, the Grant lets you easily transport everything that's important.
The Grant by The Barrel Shack is handmade using reclaimed-style canvas and leather
Features Army, number and star stamping
One interior convenience pocket
21-in adjustable canvas body strap with removable option
7.5-in leather drop handle
22-in long x 11-in high x 9-in wide