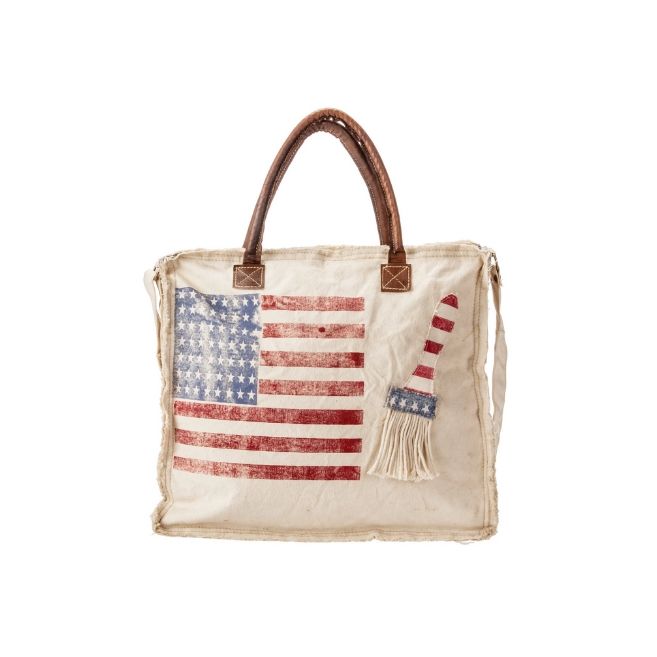 Details
Celebrate our historical past with the Armstrong by The Barrel Shack. Featuring a brilliant flag with a country-style rocket boasting yarn exhaust to give it texture and depth, the Armstrong uses a variety of materials and exposed seams to give it a depth and style that's unique to The Barrel Shack. The large main compartment is big enough to hold everything you need when you're away from home, and at 16 inches by 14 inches, that's plenty room to carry all your essentials.
You also have options to carry the Armstrong. Either slip the long canvas strap on a shoulder or sling it across your body for easy carry. When it's time to run, though, simply grab the rolled leather handles and go.
The Barrel Shack tips its hat to one of the greatest astronauts ever to launch into space, Neil Armstrong. A truly great American hero, Armstrong is our nation's symbol of being the first among men, to a touch the moon. The Barrel Shack's designers chose the name Armstrong to give that sense of American pride and progress to a handbag that is as unique as it is functional to help you get where you need to go. Whatever use you find for the Armstrong, you'll always be a leader in rustic, country style.
The Armstrong from The Barrel Shack is a handmade bag that has been crafted from rustic canvas and leather
Featuring American flag stencil, and tassel paint brush
Zip top closure and two interior convenience pockets
8-in leather drop handle
19-in adjustable body strap
16-in long x 14-in high x 3.5-in wide