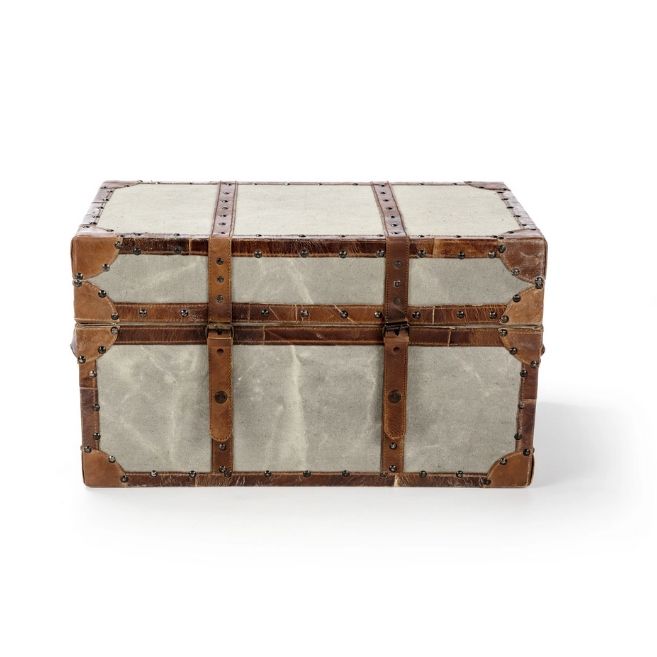 Details
A trunk has as many uses as it has simple beauty, and The Sherazade is the queen of trunks. It's constructed of wood with a canvas overlay to look like old military tents that are tacked down and held in place with leather edging studded with new brass tacks.
Using leather accents, each corner is protected with a leather covering, and leather buckles secure The Sherazade closed in classic form. Leather handles on either end make it easy to move The Sherazade from spot to spot in your home. Measuring 22 inches by 13 inches by 14 inches, The Sherazade can be used as a coffee table in front of a love seat or as a standalone piece in your decor.
Imagine The Sherazade with the lid propped open and beautiful textiles spilling out on display. You can probably imagine a host of other tableaux in which to use The Sherazade.

Sherazade gets its name from the legendary Arabic queen and the storyteller in One Thousand and One Nights. The story goes that the Persian king married a new virgin every day after which he would have the previous day's wife beheaded. When Scheherazade was chosen as the king's newest wife, she begged to be able to tell one last story to her sister, to which the king sat and listened.
She was clever though and stopped her story in the middle, and the king let her live one more day so that she could finish it. Each night she would begin a new story and stop in the middle. This went on for 1,001 nights, until she had run out of stories to tell and the king had fallen in love with her.

The Barrel Shack's The Sherazade brings the possibilities of 1,001 nights into your home, but the story is yours to tell.
22in long x 13in wide x 14in high
Constructed of wood with canvas overlay designed after old military tents
2 leather and metal front buckles
Two side leather handles
New brass stud detail