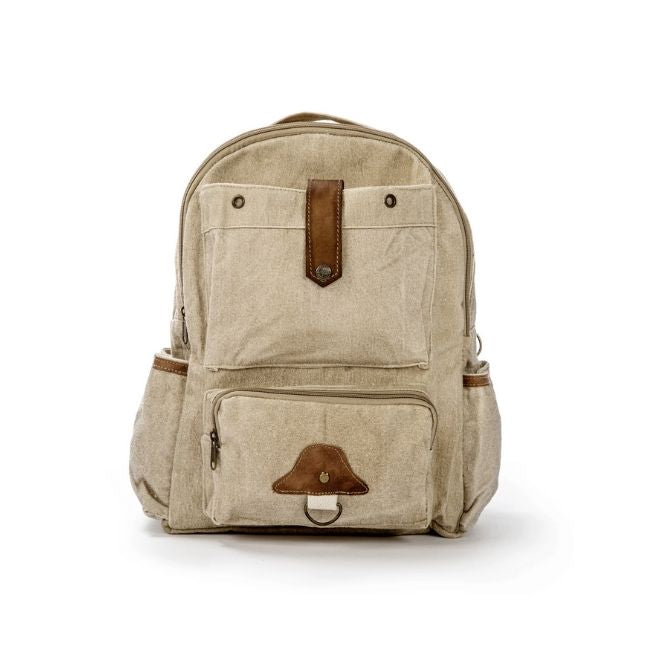 Details
Organize your life with the Barrel Shack's The Sandy backpack. Featuring plenty of pockets for stashing all of your essentials, The Sandy is made from canvas reminiscent of repurposed military tents with accents designed in the style of reclaimed goat leather. The shoulder straps on The Sandy are padded so that you can carry any load with ease and comfort, and the various compartments either zip or snap closed to keep all of your gear safe and secure. A sturdy grab handle on the top of the backpack lets you grab it and go when time is of the essence.

The name Sandy has a heritage among many cultures of meaning "defender or protector of mankind." People with this name have a deep-seated desire to lead others and a love of freedom and personal independence. They get things done in their own way and on their own terms. Sandy tends to be passionate, compassionate, intuitive, slightly romantic, and entirely generous of both time and funds. Sandy likes to serve humanity, especially on the large, important issues.

The Barrel Shack's The Sandy will serve you well over the years with a rugged, authentic look that belies its true purpose: to make your life easier and more organized. Let The Sandy carry everything that you hold dear, whether that's during your commute back and forth to work, or if it's a weekend getaway with a partner. Whatever your need, The Sandy serves you best.
16in long x 12in wide x 7.5in deep
2 Large main storage compartments
Fully padded back panel
2 Interior convenience pockets, 2 exterior pockets, 2 side water bottle pockets
Genuine Leather accents