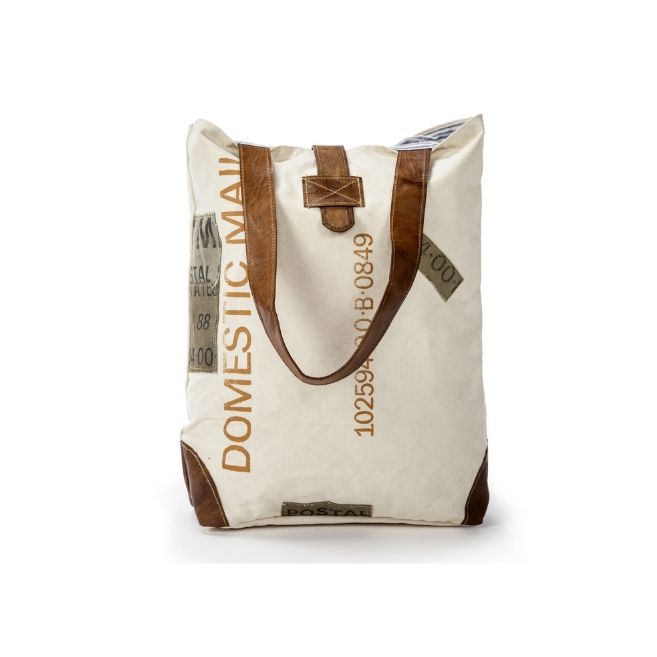 Details
The Magdalena is that combination of unique style with authentic materials to present an image of the resourceful woman who lets nothing go to waste. Featuring reclaimed-looking canvas that's been stamped with authentic postal service insignia, The Magdalena has leather accents in the straps and on the bottom corners of the bag to add texture and appeal to a classic mail bag styled tote. Lined with old-style ticking, you can easily carry all of your essentials safely and securely in The Magdalena, whether you're spending a day at the beach or just commuting back and forth to work.

Magdalena means the "woman from Mandala." The biblical Mary Magdalene came from Magdala near the sea of Galilee. Mary is named at least 12 times in the four Gospels, more than most of the apostles. She is a significant and center figure in Christianity as she was present at the crucifixion of Jesus and at the resurrection two days later. She is specifically named in two of the Gospels as the first person to see Jesus after his resurrection, and Mary holds a prominent place from the beginning of the movement that was going to transform the Western world.

Position yourself at the forefront of a style movement that brings together the look and feel of reclaimed and repurposed items to form a new classic that is the Magdalena.
16.5in long x 17.5in tall x 4in deep
One interior convenience pocket
1.25in wide leather strap with 11.5in drop handle
Leather loop closure