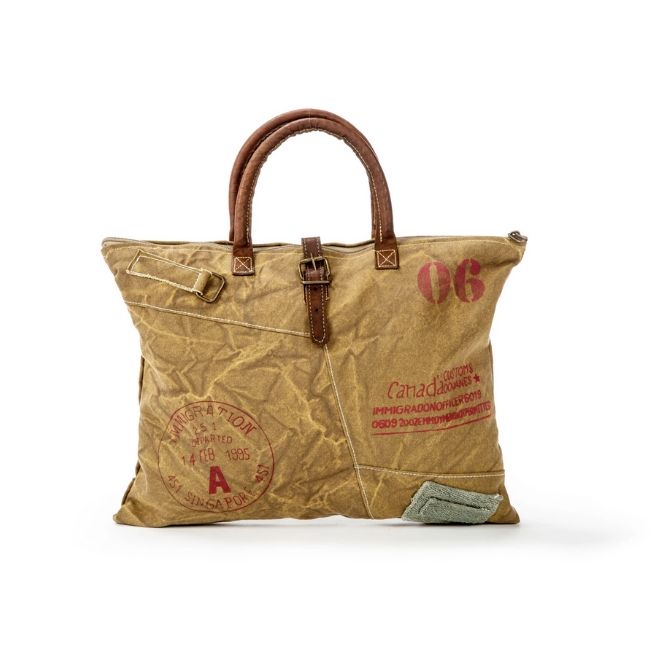 Details
The Barrel Shack's The La Gunda, a stunning handbag featuring unique immigration stamps on a reclaimed-style canvas background. The leather handles and buckle strap are from uniquely weathered and distressed leather, and The La Gunda is designed to show the wear and use of its rustic beginnings.
The top zipper securely closes The La Gunda and the leather strap buckles safely to ensure your bag stays closed. It's the small details that add depth and character to The La Gunda, like the intricate stitching and the canvas patch with a metal loop for hanging essentials close at hand. The two leather handles make it easy to grab The La Gunda and go when your next adventure calls.

Authentic immigration stamps give the illusion of a life well-traveled, one that has seen different ports of call and has a wonderful story to tell. Hop a rail or hop in your car and head out for the road less travelled. Sometimes a road trip turns into an ocean voyage to far away places and other worlds across the sea. 

The Barrel Shack brings you authentic products inspired by reclaimed and repurposed materials to create rustic furnishings and accessories that speak to the country charm you love. La Gunda is both artistic and functional. And, will help you to fill your life with unusual, unique surprises.
Handbag featuring unique immigration stamps on a reclaimed-style  canvas
Secure zipper and leather buckle closure
17-in long x 13.5-in high
5.5-in leather drop handle