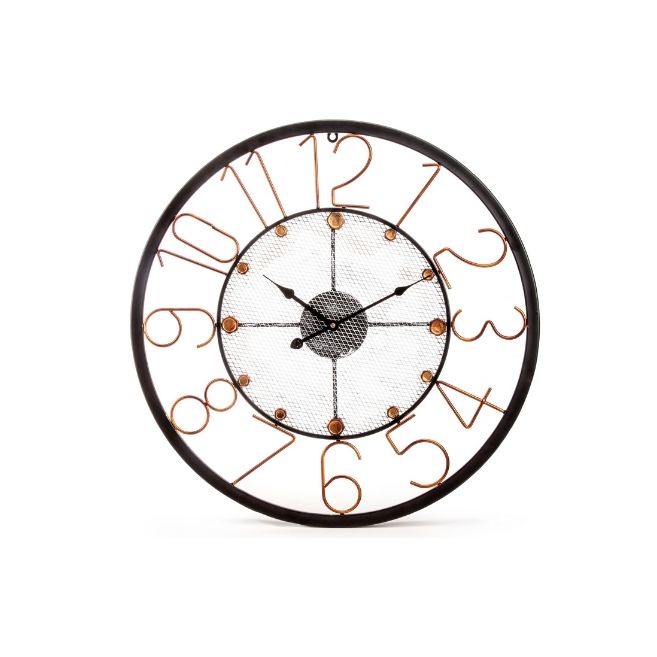 Details
The look of reclaimed metal that's been repurposed in artisanal style is what stands out in The Barrel Shack's The Josephine. Its ironwork is curved, welded, polished, and treated to prevent rust before being black-coated. Antiqued for a weathered, worn look throughout the design, The Josephine features a large clock face that is at once unique, yet authentic.
The symmetry of this round timepiece shows well with the use of contrasting textures and colors of metal to create a one-of-a-kind piece of art that is as functional as it is exquisitely detailed. Large enough at about 24 inches in diameter to command a central location on a wall in your home, the Josephine is a whimsical combination of interesting and provocative.

The famous French Josephine was the wife of Napoleon I and the first empress of France. She received several love letters from Napoleon, many of which still exist, and her magnificent rose garden displayed her passion with roses collected from around the world.
Napoleon wrote in one love letter: "You to whom nature has given spirit, sweetness, and beauty, you who alone can move and rule my heart, you who know all too well the absolute empire you exercise over it!" Empress Josephine was naturally full of kindness, generosity, and charm, and held a long-standing sentimental place in Napoleon's heart.

The Barrel Shack's The Josephine brings that sense of charm and generosity into your home for all to enjoy. Unlike any other clock, The Josephine brings old world beauty and magnificence to any room and to any decor.
Ironwork is curved, welded, polished, and treated to prevent rust before being black-coated
24in in Diameter