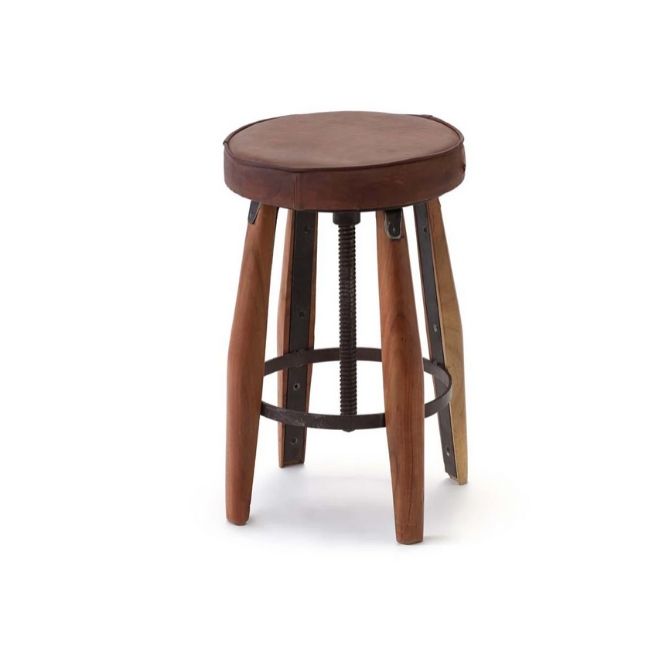 Details
The Doris is resplendent with interesting and rustic looking wood and metalwork pieces for an authentic, country look that will fit in well with your home furnishings. Based on the original design created from reclaimed wood and repurposed metal, The Barrel Shack's The Doris features a leather seat, wooden legs, and an adjustable metal mechanism that raises and lowers the seat height. In fact, The Doris can be adjusted from a lowest height of 20.85 inches to a talent height of 32.25 inches, the perfect size to fit in anywhere you need a short or a tall stool.
The entire The Doris measures 12.5 inches in length and 12.5 inches wide, also the perfect size to sit comfortably on this original stool. Imagine The Doris at your kitchen island or the bar in your rec room. If you want to create a rustic country setting, The Doris is a must-have.
Doris was a sea nymph in Greek mythology. She represented the bounty of the sea, and was an aunt to Atlas who held the sky up on his shoulders. She was the mother of Thetis, who gave birth to Triton, Achilles, and Amphitrite, Poseidon's wife. She had quite the illustrious offspring in Greek mythology.
The Barrel Shack brings you The Doris to represent the bounty of the rustic, country lifestyle to charm your family and your guests. The Doris is a one-of-a-kind stool that will have others beseeching you to help them discover the bounty of The Barrel Shack. And you'll love The Doris for its authentic and original country ambiance.