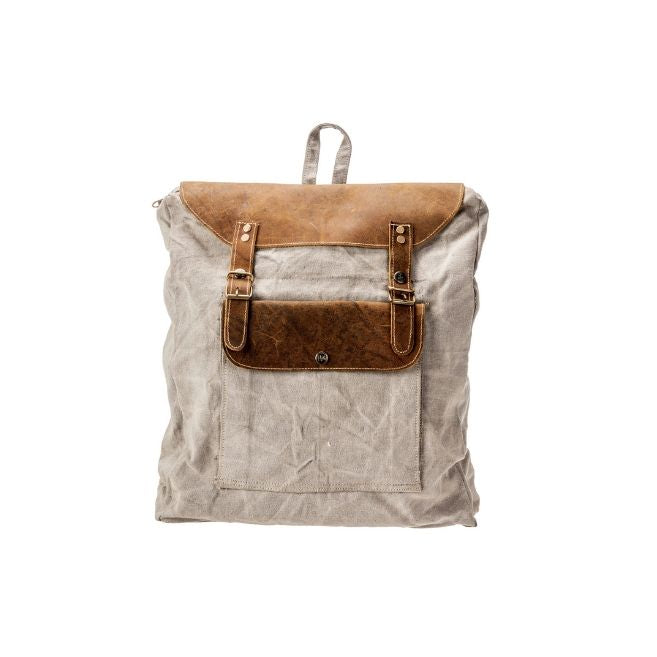 Details
The Barrel Shack's innovative designers created The Caroline, which has some of the features of a saddle bag combined with the convenience and ease of a backpack. Using rustic canvas and leather, The Caroline has a front pocket with a leather flap that snaps closed for quick access to your essentials like a smartphone.
The large main compartment is covered by a leather flap that's reminiscent of a saddle bag and buckles closed with two secure leather straps. Interesting rivets and metal buckles contrast with the leather and canvas for a look that's rugged and rustic, yet full of country charm.

Measuring 16.5 inches by 14 inches, you have plenty of room to pack all your essentials, whether you're heading off the work or traveling across country. The Caroline was designed to go places and get you there in comfortable style. You can either use the shoulder straps to wear The Caroline as a backpack, or if you're in a hurry, simply grab the grab handle at the top and run.

The Barrel Shack's The Caroline is designed to bring that sense of rustic nostalgia to life, that is both vintage and authentic, and one you'll love having with you.
The Caroline from The Barrel Shack is a unique backpack that has been crafted with the style of reclaimed canvas and leather
Leather backpack lid secures closed with two metal buttons and zipper
Two adjustable straps and top grab handle
Front exterior pocket, 9-in long x 8-in high with a leather flap and button closure
Two interior convenience pocket
14-in long x 16.5-in high x 4-in wide