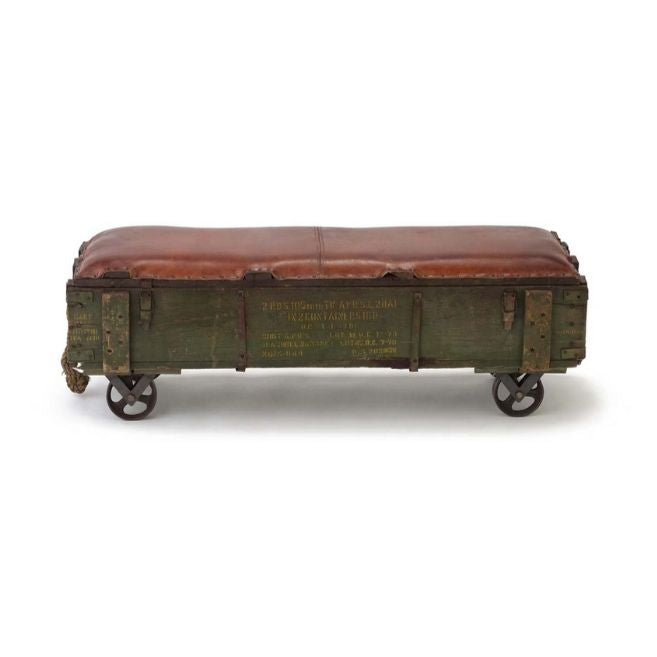 Details
The Sherman is the perfect addition to a country-style home rich with vintage accessories and furniture. The Sherman is crafted from reclaimed-looking old military cases, using wood and metal fixtures to give the appeal of well-worn use. This fascinating piece of furniture would look lovely in a family room as a soft-covered coffee table or as an interesting seating arrangement for guests. However you decide to use The Sherman, it will only highlight and accentuate the rustic atmosphere you're creating in your home.
This intriguing old military bench style seat measures a long 49 inches by 18 inches wide and 16.3 inches high, the perfect size to fit in almost anywhere in your home. And the original design of The Sherman features authentic materials that were salvaged and repurposed for those who love a rustic, country style look.
Sherman was, by far, the most loved (and hated) General in the Civil War. But did you know, he was also a businessman, an educator, and an author? He was a bank manager in both San Francisco and New York, after which time he became the first superintendent at the Louisiana State Seminary of Learning & Military Academy, which is now Louisiana State University. In January 1861, Sherman was asked to surrender his arms to the State militia of Louisiana, but he resigned his position with the Academy, saying "On no earthly account will I do any act or think any thought hostile … to the … United States."
Ever loyal and willing to fight for freedom, The Sherman will preside in your home as gallantly as you desire. Since you love the rustic, well-appointed country home, you'll love adding The Sherman into your lifestyle.