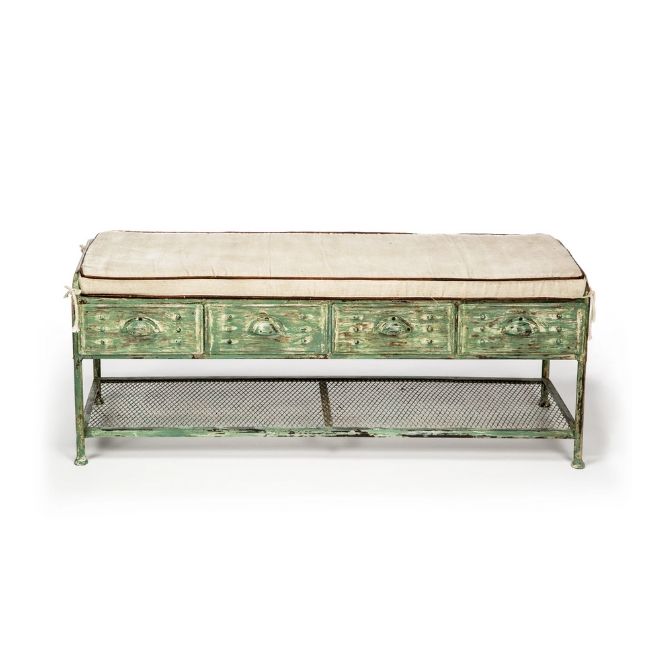 Details
The Julianne is the quintessential center of attention in any home. Made with reclaimed-looking sheets designed after old metal signs and plaques, the beautiful patina on the rustic metal is authentic and expertly crafted to look and feel like a well-used and loved piece in any collection.
The cotton material top cushion is softly padded and trimmed out in leather piping for a unique textured appeal that complements the rustic metal below.
Four storage drawers offer options while a shelf below can show other prized pieces on display against a distressed background. The Julianne offers you options beyond a simple bench: imagine it as a coffee table with a silver tea service on a serving tray or as an ottoman in front of your couch. You're only limited by your own imagination when decorating with The Julianne.

The name Julianne means "downy grace" or "youthful." People with the name Julianne have a deep seated need to serve other people and to give to others, whether by sharing money, knowledge, experience, creativity, or love.
Julianne is someone who is visionary and excited by change. She fights the outdated rules and regulations that have no meaning today. Julianne makes constructive use of her freedom.

The Barrel Shack's The Julianne brings that need to exercise freedom and change while serving others and sharing. Our The Julianne is one of the most versatile pieces in our furniture collection. Embrace the adventure that The Julianne will bring to your home.
47.25in long x 18.5in high x 16.5in wide
Distressed metal
4 storage drawers
Lower mesh metal shelf