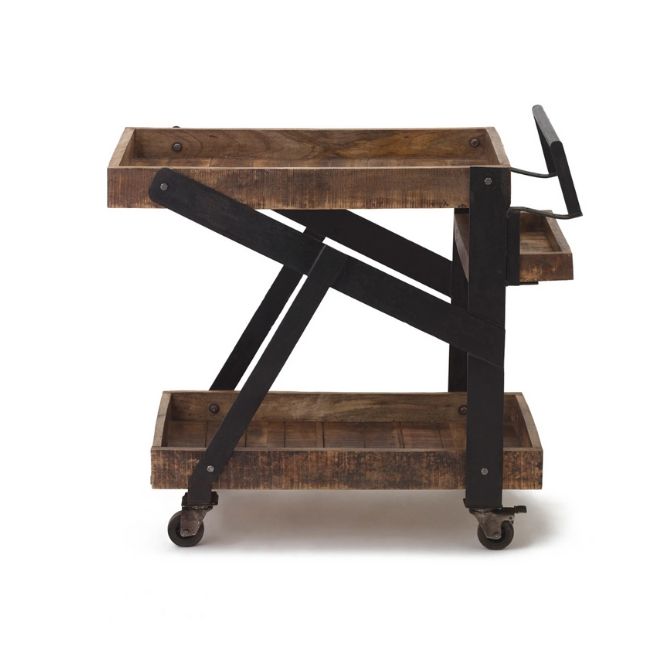 Details
What is more enticing than serving drinks and appetizers or coffee and Danishes on a serving tray? Serving it on The Dolly, a rustic, authentic-looking serving tray table on wheels brought to you by The Barrel Shack.
Featuring wood with an air of reclaimed or salvaged material, The Dolly is designed to be both functional and rustic to help you achieve a lovely country lifestyle in your home. Imagine this clever serving cart next to your antique dining room set or, even better, moving from room to room as you serve your guests refreshments. And with the measurements of 37 inches long by 33.7 inches wide and 19.2 inches high, the quaint The Dolly serves a dual purpose: it is a natural hostess aide and it fits in nicely with the other rustic pieces in your home furnishings, adding to your delightful decor.
Dolly Madison was a gracious and graceful hostess as the First Lady of the United States of America. Her exquisite social graces added much to the popularity of her husband, President James Madison. In fact, much of what we come to expect from our First Lady, we learned from Dolly. She was so adept and skillful, she acted the part of First Lady for the widowed Thomas Jefferson when he was president.
Take your social graces to the next level by adding The Dolly from The Barrel Shack to your home furnishings. If you love entertaining and you love the rustic, country lifestyle, The Dolly is the one piece that will bring those two together for you.