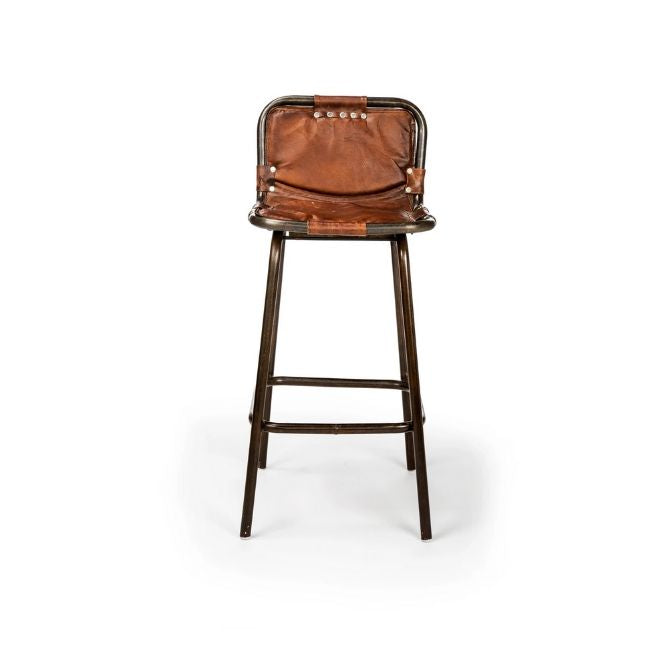 Details
If you like living off the land or off the grid, you'll love the powerful Wayne leather and steel bar chair. Whether you pull up the Wayne after work to enjoy a few cocktails at a club table or you slide into the soft leather seat in the morning at the breakfast bar, the Wayne offers you a comfortable seat with an appropriate height for taller seating.
The shorter back and long metal legs are patterned after old recycled water pipes used to bring water into homes, which gives the appearance of rustic charm that's weathered many years of service. The distressed leather seat is styled after recycled from goat leather gathered from old sofas, and the new silver studded details on the leather seat and back add a touch of texture that gets noticed.
When you hear the name Wayne, your thoughts immediately go to that quintessential man's man, John Wayne. As a cowboy or a soldier, John Wayne was the epitome of a rugged outdoorsman who was cock-sure and confident, one who took no flack and gave no quarter. John Wayne's enduring legacy was one of strength and character, and he fostered a love affair with the American Western. What little boy or girl growing up didn't want to be a cowboy when he or she grew up.
Bring that nostalgia for the Wild West and the man's man into your home with the Wayne. Set a statement piece like the Wayne where everyone will see it and admire it for its strength and character, and then compliment you on your excellent taste in rustic, authentic furnishings.
Patterned after recycled genuine goat Leather
Original design based on reclaimed metal water pipes
Embellished silver stud detail 
Long, cocktail table height, metal chair legs, with short seat back
16.3in length x 15.4in width x 38in height