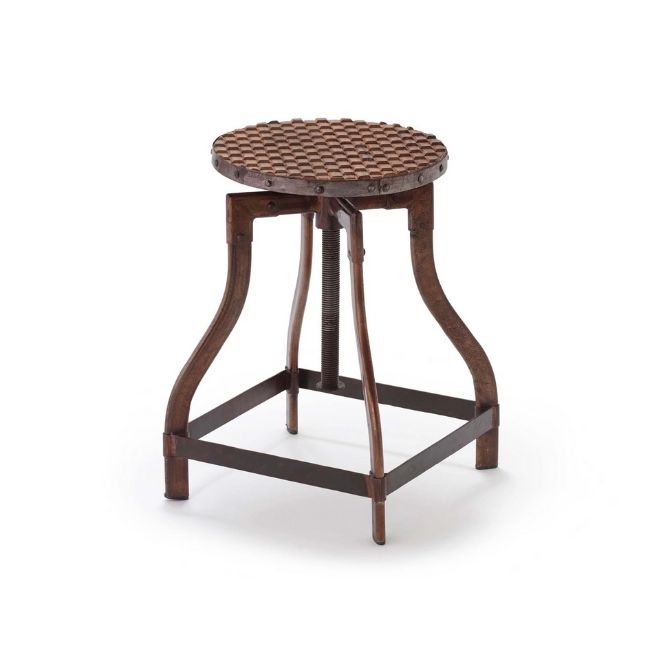 Details
If you like furniture that is rustic for your country decor and gives you options for sitting, then you'll love The Murphy. Featuring interesting and well-worn looking wood and metal, The Murphy is an authentic country-style stool with an adjustable height seat.
At its lowest, it measures 19.5 inches high, and it can be adjusted all the way up to 27.7 inches high. The seat diameter is 12.4 inches, and the width of the entire stool is only 14 inches, so The Murphy fits in perfectly wherever you want to use it. Imagine this intriguing piece of furniture at the breakfast bar in your country kitchen.
Or perhaps you might like the Murphy as a piano stool in front of your antique piano. There are as many uses for The Murphy as there are reasons to need a stool. 
Murphy is the most common surname in Ireland and the 58th most common surname in the United States. It's an Anglicized version of two Irish surnames that mean "sea warrior" or "sea battler." The Irish Murphy's were adept at repelling foreign invaders through a heightened anger that made them quite fearsome in battle.  
The Barrel Shack is pleased to offer you The Murphy, our own warrior against the onslaught of cheaply made, bargain furniture for your home. When you order The Murphy, you know that you're getting an heirloom quality piece of furniture that fits in perfectly with your rustic, country lifestyle.