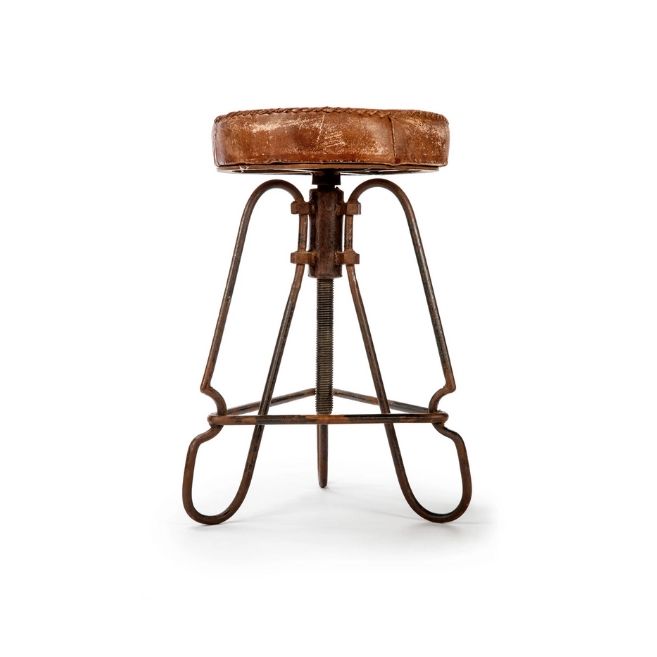 Details
The Bridgette is the culmination of an exercise in style and practicality. Featuring a seat made of exquisite soft leather that's been distressed and weathered for that well-worn look, your eyes are instantly drawn to the interesting iron work legs that create a subtle geometric shape to show off master craftsmanship in working with steel.


The legs are also weathered and worn, and have a patina that speaks of years of loving usefulness. At 22.5 inches tall, The Bridgette fits in with your rustic decor with aplomb and grace.


In fact, the name Bridgette means "strength or exalted one." This most familiar form of the name of the Celtic goddess of wisdom, Bridgette is still used by traditionalists and those who love the female saint of Ireland who became the patroness of her country. Saint Bridgette is best known as the patron saint of scholars, poets, and healers. Much wisdom and strength comes with the name Bridgette, and those who bear the name can claim those exalted Bridgettes before her as namesakes.
What characteristics do you look for in a stool? Do you value strength and character? If so, you'll want to add The Bridgette to your collection of authentic, rustic furniture to pass down to your heirs.
Distressed and weathered genuine leather seat cushion

Master craftsmanship geometric shaped iron legs

20.7in height x seat diameter 12.2in