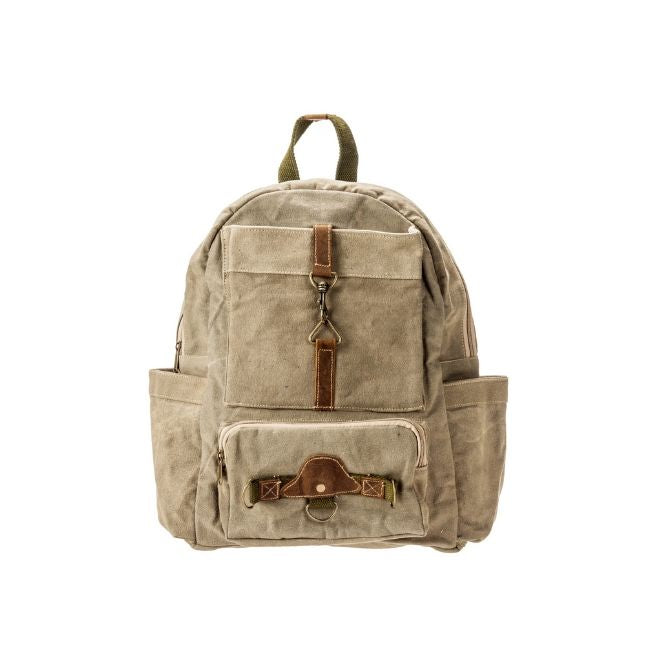 Details
The Nelson by The Barrel Shack is the perfect companion for your daily commute to work or class, and with its innovative use of rustic, repurposed-looking materials, shows your love of the country lifestyle quite well.
Featuring a design based on reclaimed canvas and leather, The Nelson uses a variety of materials, including unique metalwork, to create a look that's authentically country. One outside zippered pocket, a quick-access outer pocket with a spring hook closure, and the zippered interior main compartment all give you plenty of options for storing all your gear.
Interesting metal loops let you attach other essentials like your keys to the outside of the bag, and two slip-in pockets on either side are great for a water bottle, sunglasses, or other small items. The Nelson makes it easy to carry, too, with comfortable padded shoulder straps that leave your hands free or an integrated leather grab handle for times when you need to grab and go.

The Nelson by The Barrel Shack is one of our most popular bags because of its versatility and functionality. When you love the rugged, rustic look, The Nelson will never let you down with its country charm and the ease of carrying all your essentials safely and securely wherever the road takes you.
The Nelson from The Barrel Shack is a handmade Backpack that has been crafted in the style of reclaimed canvas and leather
Featuring leather and metal accents
Zip top closure
Two front exterior pockets, two side exterior pockets
Two interior convenience pocket
Two padded adjustable shoulder straps and a top grab handle
12-in long x 16-in high x 6- in wide