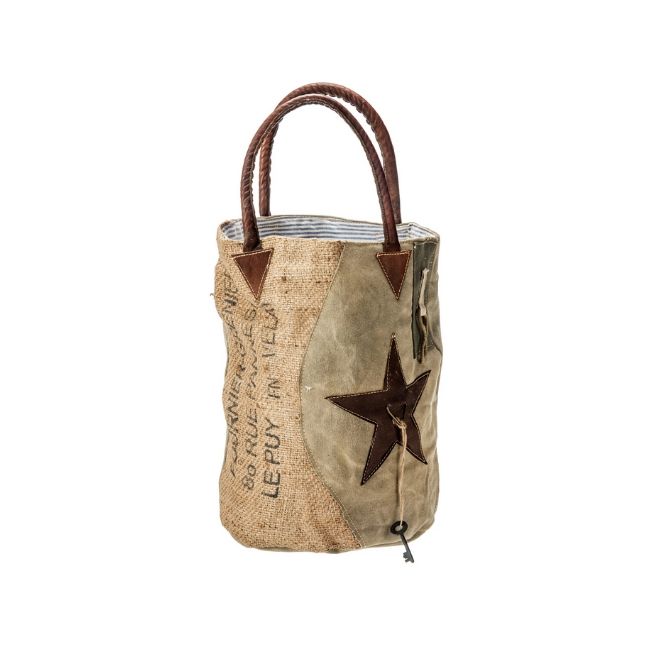 Details
If you like authentic visual interest that brings a rustic country feel, you're going to love The Harrison. The combination of repurposed-style materials like canvas and leather with different textures and metalwork create an eye-catching palette that's a veritable feast. Your eye is drawn to the dangling skeleton key and the large metal hoop set off by the interesting geometric shapes, while at the same time taking in the stamped French wording up the side.
The star and the square patches are designed of contrasting materials for subtle texture while the rolled leather handles and taller shape of The Harrison give it height and depth. The Harrison is 17 inches tall by 15 inches wide and 10 inches deep, plenty of room to stash all of your essentials for an overnight getaway or just your daily commute to work.

The Barrel Shack's Harrison shares a name with two American presidents and is in good company. An outstanding leader, The Harrison will set you apart from the crowd with panache and interesting style. Just be prepared to answer a question you'll get often: "Where did you find that bag?!" So add the Harrison to your collection of rustic, authentic pieces, and be delighted for years to come with this unique find.
The Harrison by The Barrel Shack is handmade
Using the look and feel of reclaimed canvas and leather to bring you an authentic rustic style
Features skeleton key accent
7.5-in leather drop handle, 8-in interior convenience pocket
17-in long x 14-in high x 10-in wide