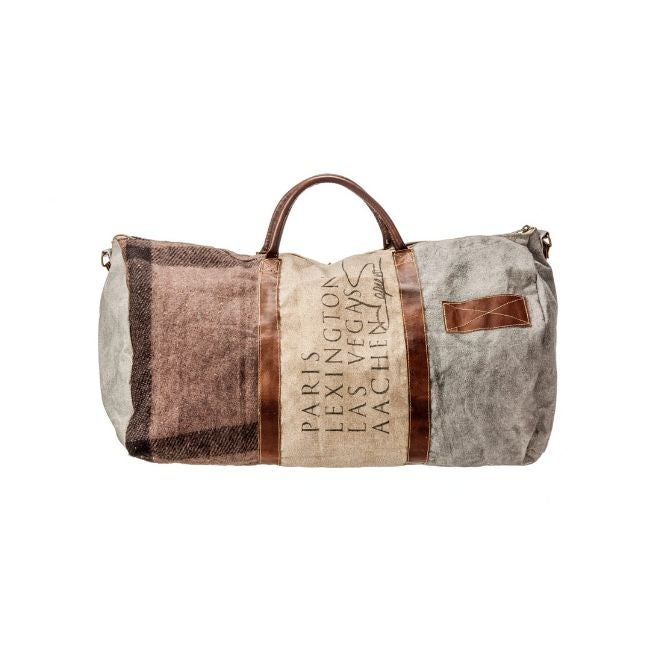 Details
Life on the ranch, living out the country life in style and with panache, defines The Dixon's appeal. A rustic country charmer, The Dixon uses interesting, colorful reclaimed-style canvas that's accented with pieces of weathered leather to create an image that's both authentic and vintage. Vertical lines and ingenious symmetry bring to life and country flair that's reminiscent of ranchers and cowboys, herds of cattle being driven, and a simple, rustic lifestyle.

Measuring 23.5 inches by 15 inches, The Dixon gives you plenty of interior room to store all your essentials for your daily commute or a long weekend get-away. The leather shoulder strap allows you to wear The Dixon comfortably over your shoulder or across your body, and the rolled leather handles make it easy to grab The Dixon and go when it's time to move. Whether you use The Dixon as a daily commuter or a companion to a traveling lifestyle, you're sure to get to your destination with rustic charm and simplicity.

If you love the rustic, country lifestyle, The Dixon is the perfect, addition to your collection.

The Dixon from The Barrel Shack is a handmade duffle bag that has been crafted in the style of reclaimed canvas and leather
Features unique, rustic leather star and stamp of various cities around the world
One interior convenience pocket
14-in leather strap
5-in leather drop handle

23.5-in long x 15-in high x 12-in wide