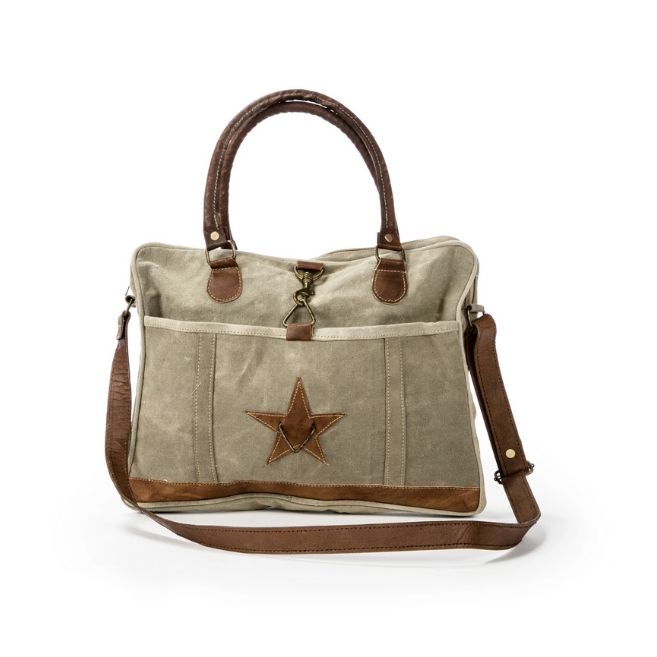 Details
The Josette is a rugged messenger bag with a definite feminine silhouette. Using canvas reminiscent of old military tents and weathered leather for the handles, strap, and accents, The Josette features a large interior pocket that zips closed to keep essentials safe and secure, and an exterior pocket that clips closed to give you quick and easy access to essentials you need close at hand.
You have options with The Josette: you can carry it over your shoulder or across your body with the shoulder strap, or you can carry it by the sturdy leather handles. Either way, the Josette is meant to grab and go.

Josette is one of a group of French names ending in "ette" that are popular for girls and means "May Jehovah increase." Josette is feminine and flirty, but given the choice, she has a deep desire to understand and analyze the world in which she lives to learn the deeper truths in life. Josette values truth, justice, and discipline, and strives to undertake large endeavors with great success.

Express your inner Josette with a messenger bag that is both flirty and feminine, yet provides you with the support you need to carry your essentials safely and securely. Your message with the Barrel Shack's The Josette will be loud and clear: liberty, equality, and sisterhood.
14in long x 10.5in high x 2in deep
Front pocket with metal clasp closure
One interior convenience pocket in main compartment
7in leather drop handle
20in adjustable leather shoulder strap